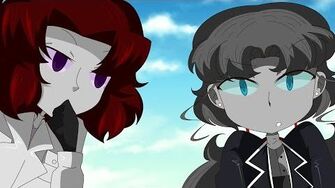 On the above-mentioned date, an announcement was released by
Elle Baston
on The Caged Underworld's official tumblr
[1]
revealing a release date for the first part of the show's debut episode along with assorted images stated to be screencaps from the episode.
[2]
The original post was subsequently followed up by two more progress updates, one on April 1st
[3]
and one the day after
[4]
, along with the final video.
[5]
However the news was a practical joke limited to the intimately-sized fan community, and the supposed screengrabs were merely pieces of original art unrelated to the actual episode. As part of the joke,
Weltraum
and
Sterbenfrau's
voice actresses agreed to share all four posts.
The prank was conceived on March 31st, but the original announcement appeared on April Fool's Day due to timing conflicts. Though the video shows a custom thumbnail of Kleinod and Weltraum as if depicting a scene from episode one, the actual content is a pitched-up version of The Village People's YMCA music video after a failed Rickrolling attempt. Viewers are advised in the video description to watch until the very end, after which a crudly drawn self-portrait of Elle appears on the screen with an apology and reassurance that a debrief video would be uploaded in the near future.
In spite of The Caged Underworld's relatively limited exposure several people fell the prank, including other voice actors for the series. Ironically, the script for the real first episode was completed on the day the video was uploaded.
References
Edit